Medical Gas Piping Installation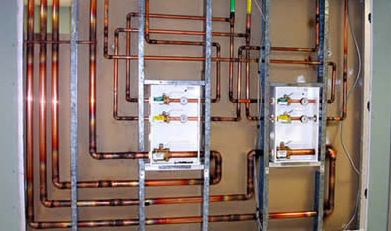 Our medical gas experts follow strict guidelines for installing piping and components in all health care facilities.
Partial List of Services:
Anesthetizing Locations
Operating Rooms
Cystoscopy
Delivery
Special Procedures
Acute Care Locations
Emergency Rooms
Recovery Rooms
Intensive Care Units
Cardiac Intensive Care Units
Catheterization Labs
Surgical Excision Rooms
Dialysis Units
Birthing Rooms
Sub-Acute Patient Care Areas
Patient Rooms
Exam & Treatment Rooms
Nurseries
Respiratory Care
Other Locations
Veterinary Clinics
Outpatient Facilities
Dental Offices
Autopsy
Our medical gas piping analytical purity testing is conducted by a third-party accredited testing company referred by the owner or provided by Hausermann Mechanical, LLC.
We Service all of New Mexico and Western Texas.
Albuquerque, NM
Bernalillo, NM
Santa Fe, NM
Los Lunas, NM
Belen, NM
Rio Rancho, NM
Las Cruces, NM
Silver City, NM
Amarillo, TX
Lubbock, TX
Midland, TX
Odessa, TX
El Paso, TX